AArticoli
Fairy Unchained: Nyarlathotep, the Usurper
The final set to be released " Millenia of Ages " introduces players to a darker side of the Force of Will world. Now after 1000 years the seal has finally eroded, what was once cast into the abyss is now free to render its vengeance!
They were exiled to the stars once feared and roamed free to wreak havoc. Now they come to in your dreams or manifest as nightmares, but there is one that walks the world of Force of Will in physical form.." Nyaarlathotep, the Usurper ! " It is with her appearance that the age of chaos and madness will begin.
Just by observing her statistics of 800 ATK and 800 DEF with the " incarnation" cost of 2 Dark or 1 Dark 1 Fire, Nyarlathotep, the Usurper truly is a nightmare to behold when she hits the field. Unless her summon is prevented upon entering the field she will gain the following ability to automatically pluck a card from the opponents hand of her choosing. This ability is extremely destructive in so many applications (of course I won't list all them ) :
1 - it enables you to determine what is in the opponents hand and to remove the greatest threat.
2 - You are able to determine what play to make that turn based on what's in your opponents hand and your own.
3 - If you are unable to capitalize on her enter ability, you are able to foresee possible plays the following turn.
Knowledge is key in any game and Nyaarlathotep, the Usurper enables this. But it's not the only what she can do, it's how she interacts with other cards. Her incarnation can actually trigger effects that would amass field @ hand advantage and press for " Huge " amounts of damage.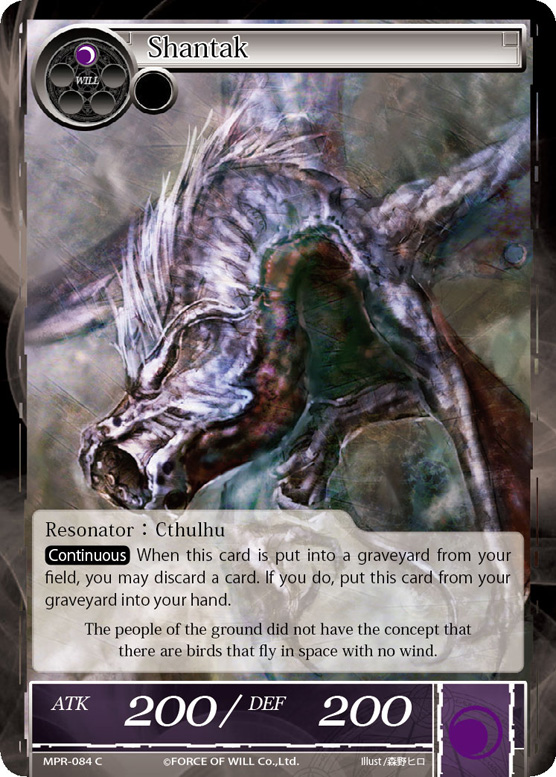 Shantak (Resonator 1 Dark ) replaces itself by discarding any card from hand (for example: any high level Chtulu resonators in hand), when you put Shantak into the grave - you can then add it back to your hand.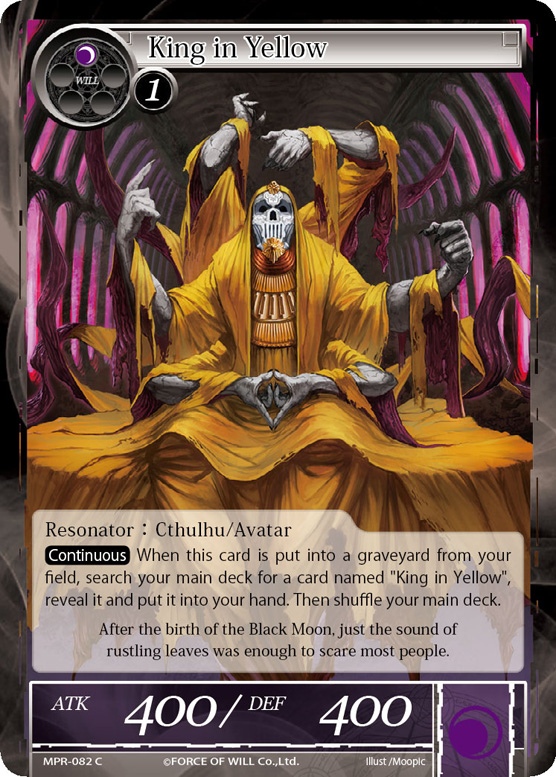 King in Yellow ( Resonator 1 Dark / 1 Any) When this cards leaves the field you are able to automatically retrieve another copy from your deck add to your hand and shuffle your deck.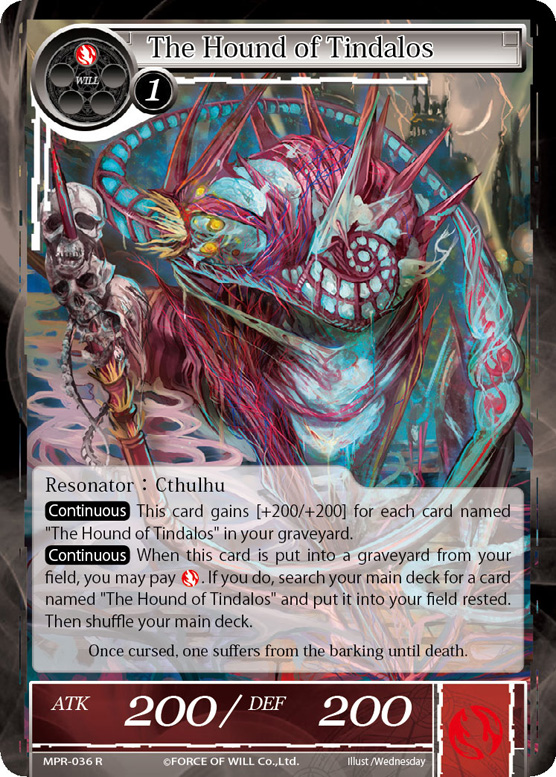 The Hound of Tindalos ( Resonator 1 Fire / 1 Any) when this card enters the grave you can pay the cost of ( 1 Fire) and summon another copy from the deck to the field in rested position. That copy also gains [ +200/+200 ] for each hound in the graveyard.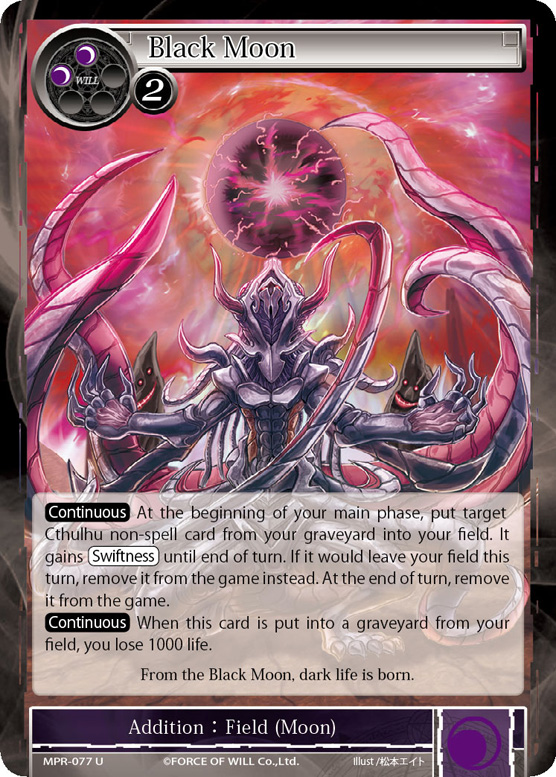 But chaos comes in many forms in ways to abuse her effect more then once in the same turn. And her incarnation cost is not the only way to summon her.
Black Moon ( Addition 2 Black / 2 Any) if you are unable to satisfy her incarnation requirements you can just summon her from the grave; and she gains swiftness for that turn able to unleash her wraith.
With the release of Crimson Fairy Tale, Twin Towers and Moon Priestess: cards like Cheshire Cat, Elvish Priest, Grete.... have run rampant in several decks, including the recent tournament held in Japan May 2015. Enter our new solution " Dark Pulse "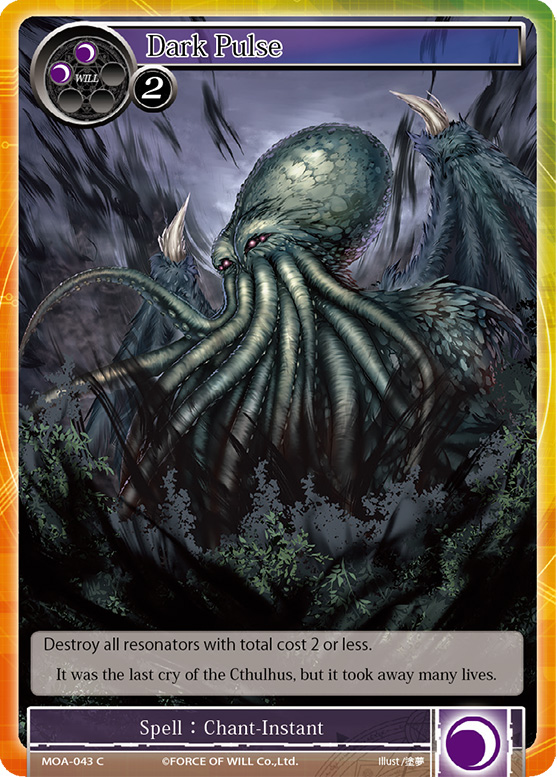 Spell : Chant Instant with a cost of 2 Dark / 2 Any - Destroy "ALL" resonators with 2 cost or less! Do I really need to emphasize the impact this card could possibly have? Aside from the fact clearing the field for both the opponent and yourself, I let you in on something...CTHULU's!!!!! certain resonators actually can benefit from a field wipe such as: Shantak, Black Goat, The Hound of Tindalos and King Yellow. Yes the cost is high, but cards like Thunder and Flame of the Outer World just don't cut it for clearing the field and leaving you room to possibly push for GAME! Your opponent will no longer be able to hide behind a wall of Cheshire Cat, the Grinning Remnant, Elvish Priest or Gretel.
But within all the anarchy there are those who thrive and flourish. A powerful entity that inspires madness incarnate itself emerges from the shadows, Eibon the Mage! And his creation Book of Eibon, bound to its creator to serve and pluck any and all souls to serve its master and Hazzard, the Dark Forest Augur; a new type of resonator.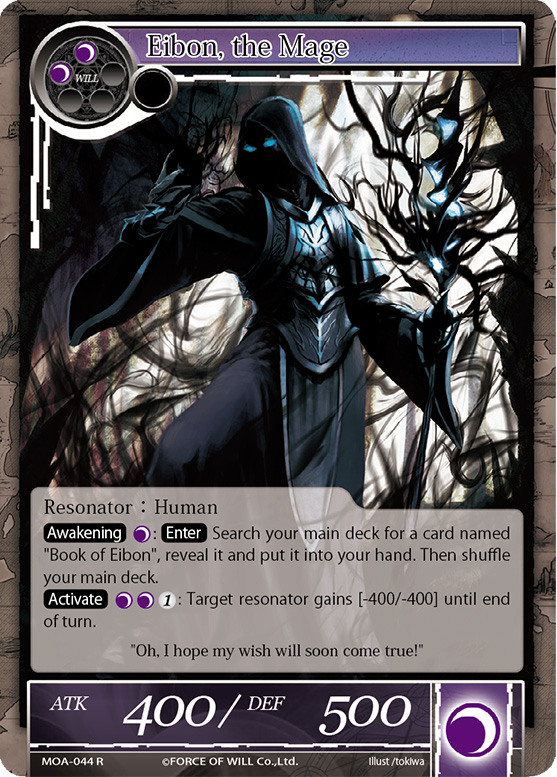 When observing Eibon, the Mage's stats of 2 dark 400 ATK / 400 DEF, his starts are not the most threatening. But it's what Eibon does when he hits the field that starts to make opponents tremble.
Awakening : 1 Dark: (Enter ) " Search your main deck for a card named " Book of Eibon ", reveal it and put it into your hand. Then Shuffle your main deck. " What madness is this? Just upon Eibon entering the field for the cost of 1 Dark, you are allowed to search an addition that can literally end the game that turn or the following turn? Can the presence of Eibon, the Mage alone truly be the beginning of the end? NO! Its what comes after.....Book of Eibon.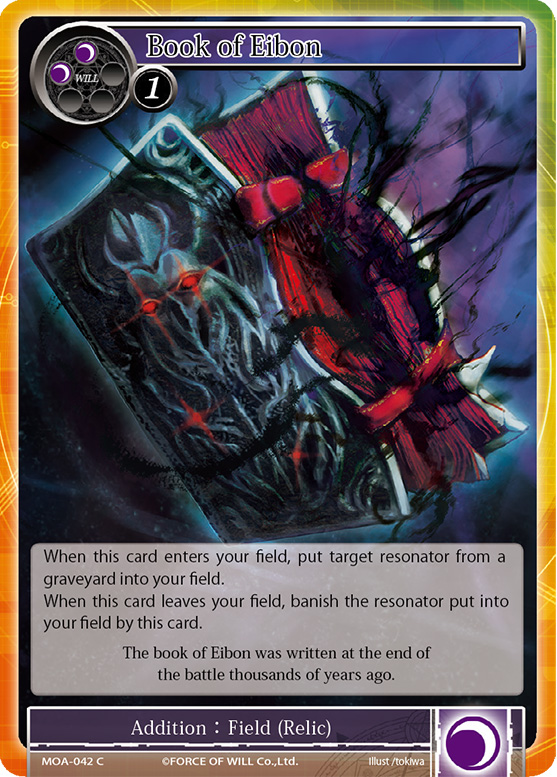 Addition : Field (Relic) 2 Dark 1 Any " When this card enter your field, put target resonator from (A) graveyard into your field." The secondary effect is of no consequence to controlling player. When Eibon the Mage hits the field - you have the opportunity to search through your deck that enables you to summon a resonator from either players grave, and its even more malicious if its a resonator from your opponents grave. But, if you put a resonator onto the field without paying it original cost - you can't play the the awakening cost. Once Book of Eibon leaves the field, that resonator is banished. A Grimm and necessary tool for any player looking to truly punish their opponent.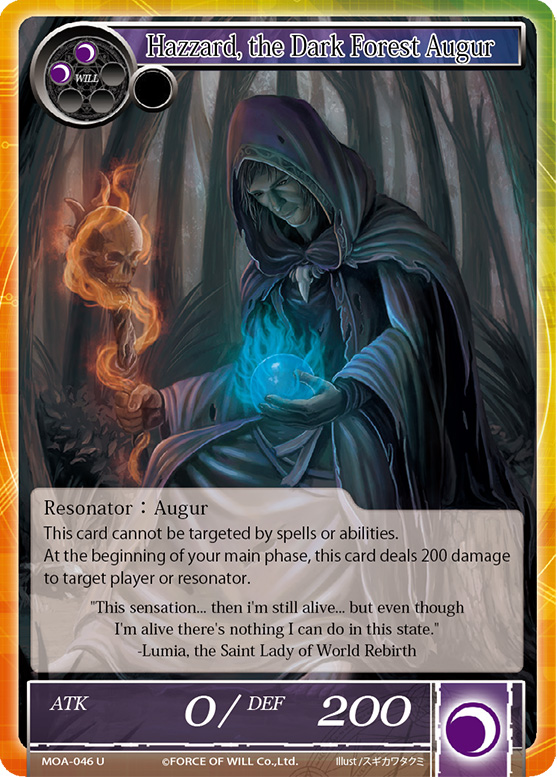 2 dark with 0 ATK / 200 DEF? But do no be worried about these meager stats, its his uncanny ability to avoid the effects of ALL spells or abilities. That means popular cards like Rapid Decay, Thunder ( target resonator effect ), Flames of Outer World (target resonator effect), Stories told in 1001 Nights, Carmilla the Queen of Vampires, Hastur the Unspeakable and Hamelin's Pied Piper all have NO EFFECT. And at the beginning of your main phase - your inflict 200 to target player or resonator. A creative player can find several ways to augment this ability. Be warned...not to underestimate Hazzard, the Dark Forest Augur.
The fourth set to be release in july " Millenia of Ages " will truly change the way we approach the game. Are you ready for the coming PANDEMONIUM? Or has the comfort of their imprisonment these past 1,000 years left you unprepared?
Written by: Chris Chibi Michaelis