AArticoli
Rise of the Ruler: The Emperor
Welcome back to this new episode dedicated to Vingolf's Rulers where we're going to meet one of the most charismatic personalities in history, he who became the emblem himself of Roman Imperial Power.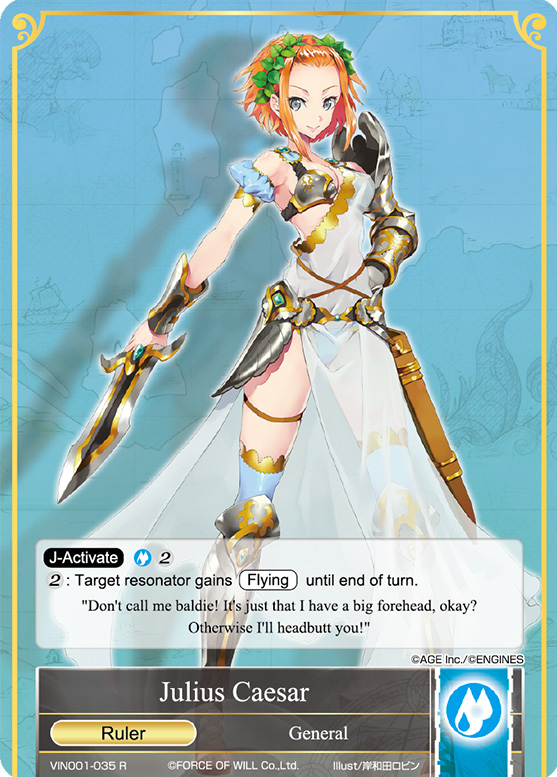 On the Ruler Side, Julius Caesar has a not so costly J-Activate ability and an interesting effect: at the cost of two generic Wills we can grant Flying to a target resonator till the end of turn. Not needing to exhaust our ruler to activate this ability is a clear advantage, since we don't need to skip calling a magic stone and we can use it more than one time on the same turn.
We add that if having an ability like that is our ruler, basically immune to the opponent's threats, its effectiveness increases a lot since it means we can easily avoid our opponent's defenses with resonators like Blazer and Yamata. That often means winning the game.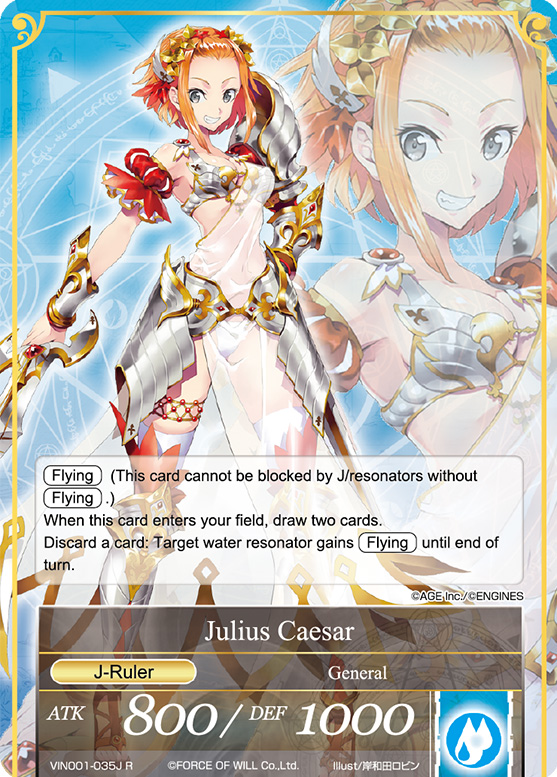 As a J-Ruler, Julius Ceasar shows good stats with also the flying ability. When she makes her appearance on the field we even draw two cards and, if we discard a card, we can grant flying to a Target Water Resonator will the end of the turn. We're talking about a J-Ruler able to easily exploit one of the strong points of the Water Attribute, that is the ease of drawing. Two cards actually played that could benefint from her effects are Simbad ( he can skip the double draw to activate his abilities) and Genesis Creation ( which can make came back from the graveyard a resonator or field we discarded for her second effect).
One of the new resonators that best accompany this ruler is a carismatic character of the modern age, a General that became and Emperor whose deeds will forever remain carved in the history of mankind.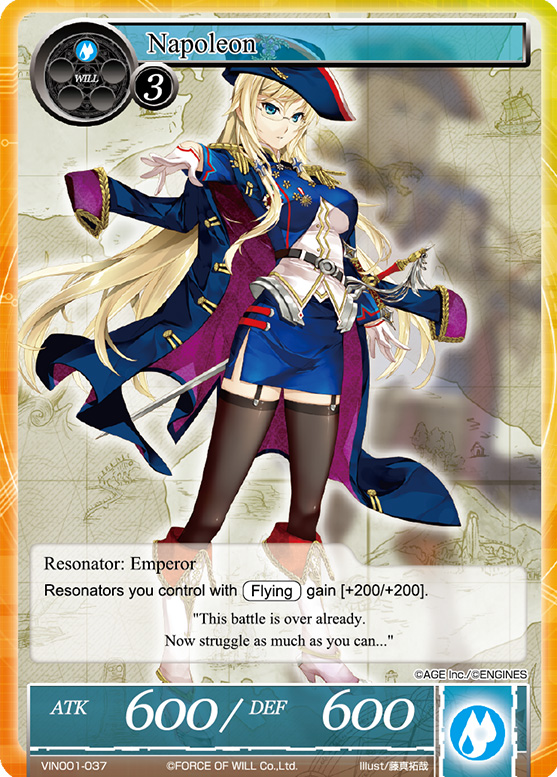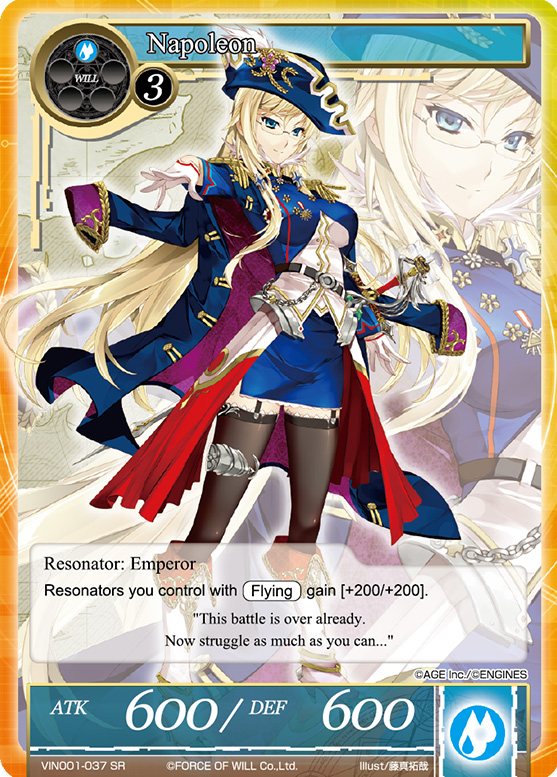 Napoleon is a resonator with slightly under average stats for his cost of four Wills. However her ability makes her the ideal companion of Caesar since she has an effect that grants a bonus of +200/+200 to Flying resonators you control. Thanks to the abilities of our Ruler/J-Ruler it will not be hard to exploit them, even on herself.
A resonator that can use the bonus granted by Napoleon the instant she enter the field is Hanzo Hattori.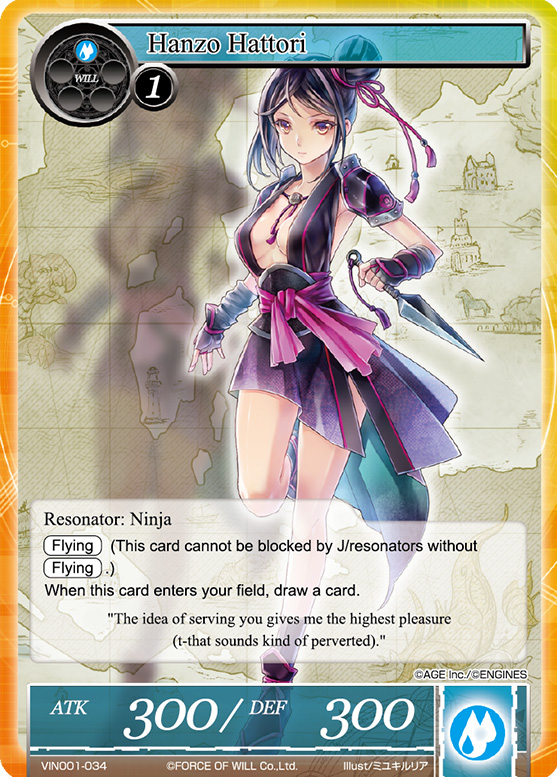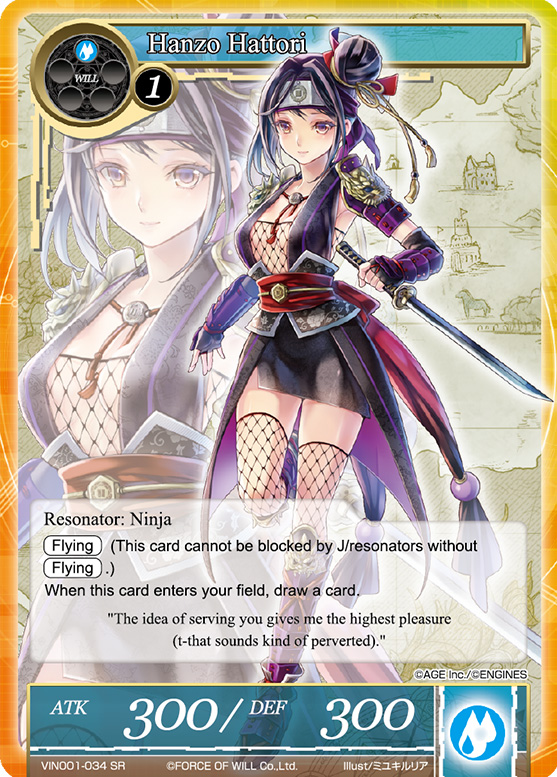 At the cost of two Wills we have a 300/300 with Flying that makes us draw a card the moment she enters the field. Hanzo is a card perfectly in line with Caesar strategy and even if her stats are under average, she's still a useful card to press our opponent on the early turns.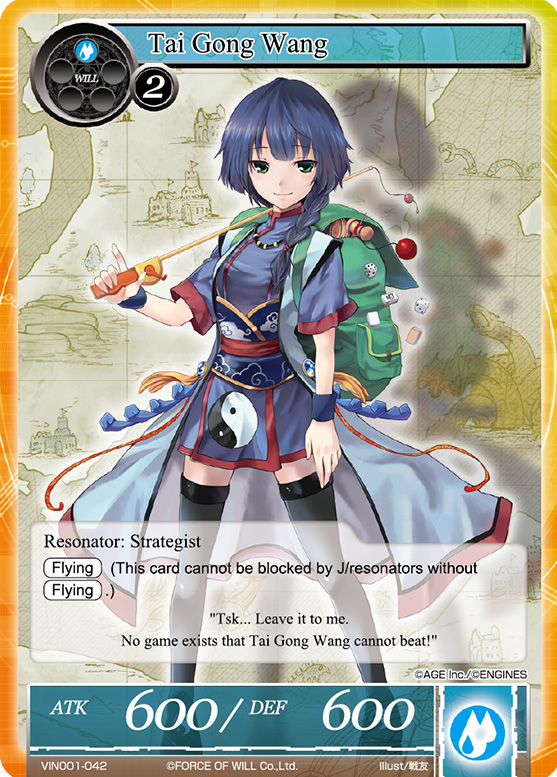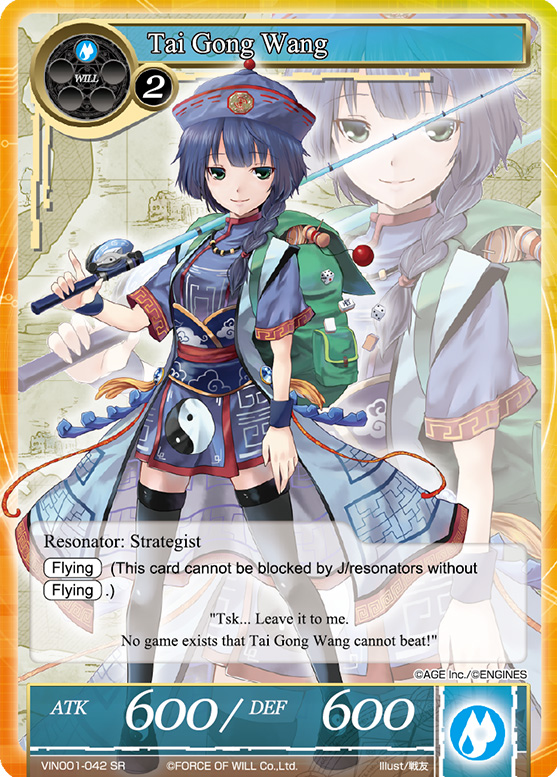 By paying one more Will, one Water and two Generics, we can summon another resonator with the Flying ability: Tai Gong Wang. She has 600 for both attack and defense values and she's a solid pawn to bring to the ranks of our army since she survives early removals like Thunder and forces our opponent on using cards like Stoning to Death, Flame of Outer World or Crime and Punishment that are usually kept for other kinds of threats.
The last character we're showing is the great swordman Soji Okita, captain of the first unit of the Shinsegumi, the special police force Kyoto who was on duty in the late Edo age ( 1603- 1868)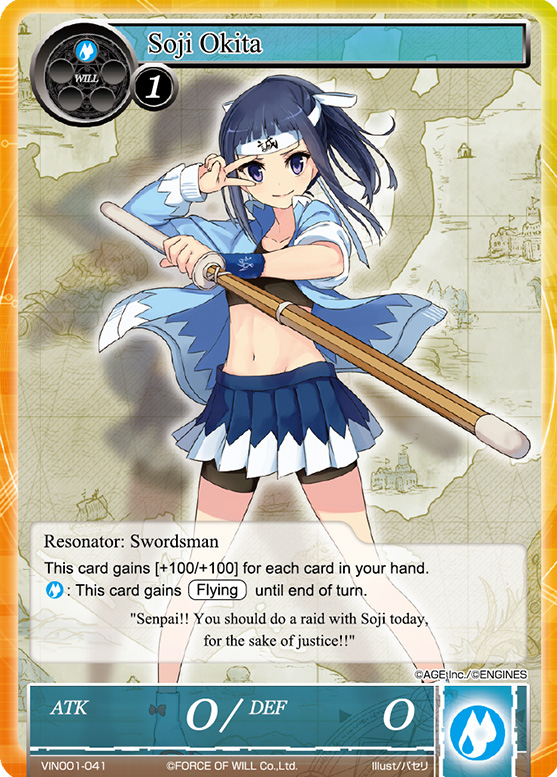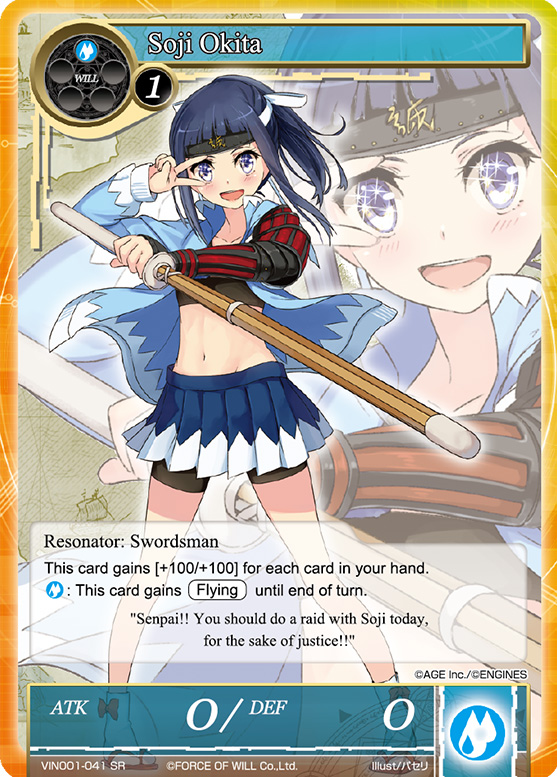 Soji is a resonator that costs two Wills, a Water one and a Generic one, that gains 100 points of attack and defense for each card in our hand. Moreover at the cost of a Water Will we can grant her Flying till the end of turn. We don't need to cite cards like Witch's Dagger and Voice of the False God, even on this article we saw two cards that can grant bonuses to her. She will probably never reach really high values during the match, but on the early turns she could make trouble for our opponent.
Having reached the end of this spoiler, we say goodbye till next time with the intriguing characters of Vingolf.
Bye!
That's all for now, We'll see you in the next episode!