AArticoli
KINGS UNLEASHED : Kings from Behind the Mirror
Welcome to this episode of Kings Unleashed! Today we'll travel through the Mirror together with Alice to know the Shadows, an all new race in the Force of Will world that takes his strenght from the Darkness Attribute.
Dark Alice has some really interesting allies: if in the world we all know the Seven Kings are battling each other, in the World behind the Mirror they are all in service of their dark lady!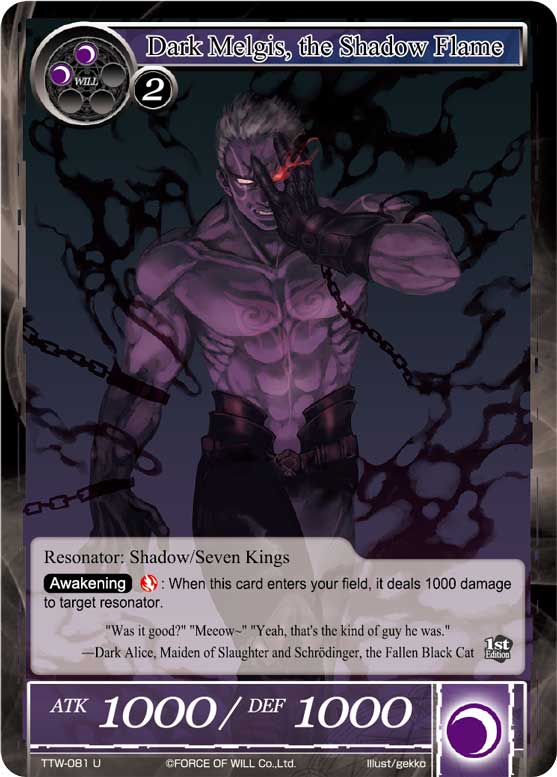 Melgis is a resonator with really good stats for his cost: a 1000/1000 at the cost of 4 is really a trouble to deal with for anyone, if we add to this his Awakening that at the cost of one Fire Will allows us to deal 1000 damage to a Target Resonator we see that Melgis will find a spot everywhere.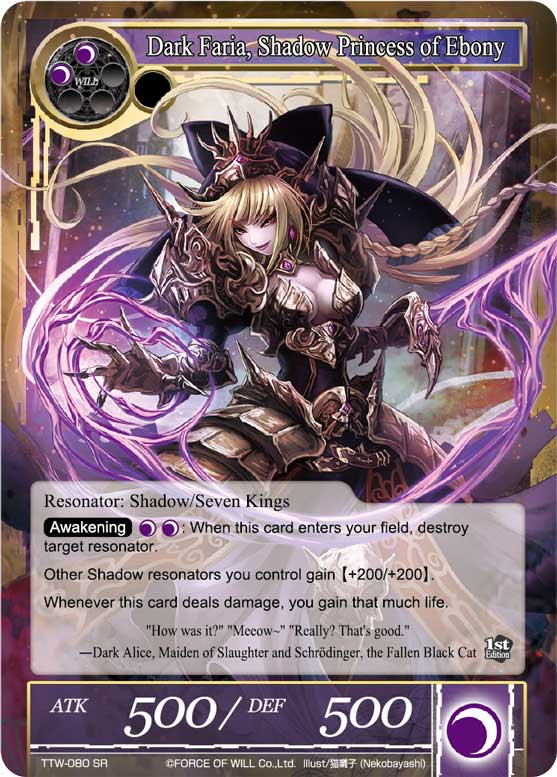 If in the real world Faria is the destined opponent onf Melgis, in the shadow world they are proud allies. At the cost of two Darkness Wills Faria will bring disarray on the battlefield: first of all we'll power up all the other Darkness Resonators we control, second she makes us gain life points equal to the damage she will deal. We don't have to underestimate Faria's Awakening ability, the even with such a high cost, it will allow us to destroy a Target Resonator, making this card a jolly good for every game situation.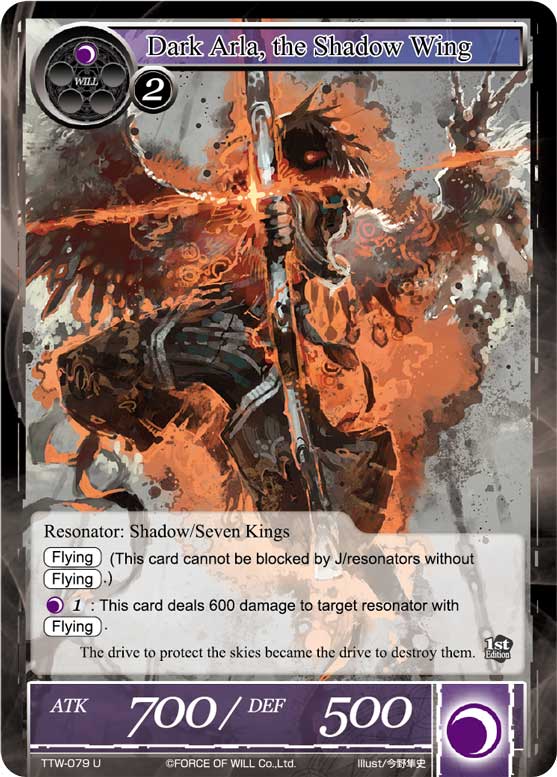 Even Arla has joined the Shadow Army and at the cost of 3 Wills, of which only one Darkness ( this lightens a curve with a lot of specific costs), he'll make his appearance on the field. A Flying Resonator more than adequate for his cost, he has the ability to deal, at the cost of only one Darkness Will and of a generic one, 600 damage to a Flying resonator, that joined with cards like Artemis, Thunder, Flames from Outer World it will make really difficult thinking on a deck based only on flying creatures.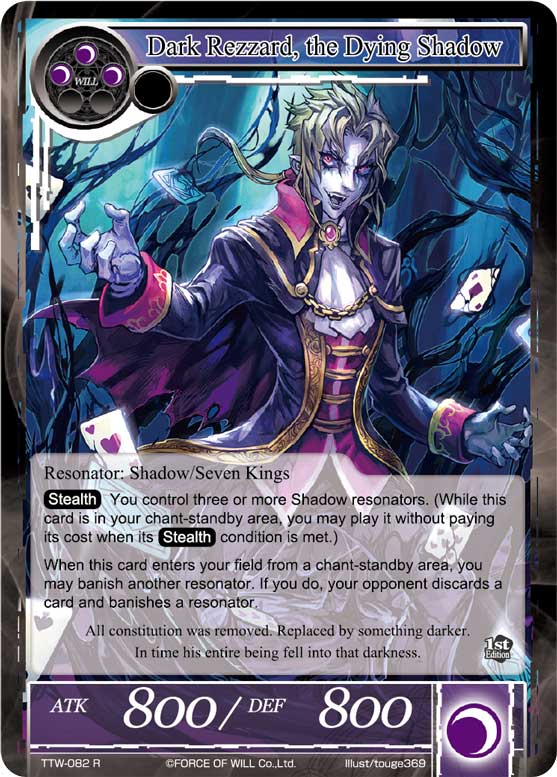 Even Rezzard is on the match obviously under the form of a Stealth Resonator, it could not have been otherwise. When Rezzard will enter the field from the Chant-Standby area we'll have to banish a resonator we control, but at the same time our opponent will do the same and he will also have to discard a card. Rezzard shows a lot of synergies with card we've previously seen: Mozard and Merlin coupled with this new Resonator could literally bring destruction on every battle field.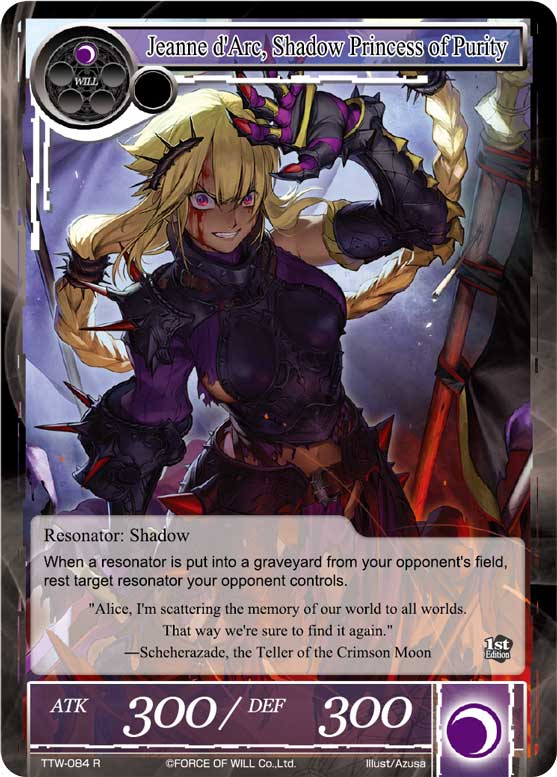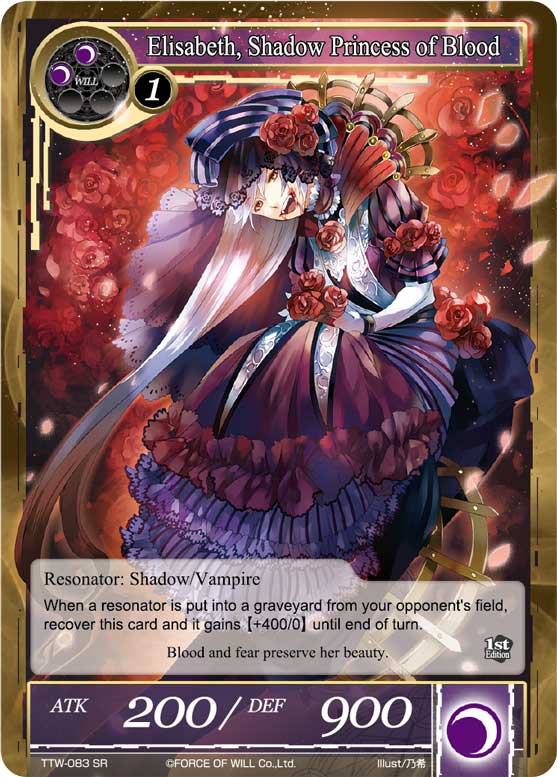 We're almost at the end with a couple that will surely will be talked about: Jeanne and Elizabeth are two Resonators with an effect seemingly opposite but really synergic: the first one will exhaust a target resonator everytime an opposing Resonator will go to the graveyard, the second one will ready herself and she will increase her attack every time that happens. We can easily see that card like Rezzard, the Dying Shadow or Soulhunt are the fuel of a deadly combo of lots of attacks directed to our opponent!
Before leaving you we are going to know a new type of Special Magic Stone: Memorias.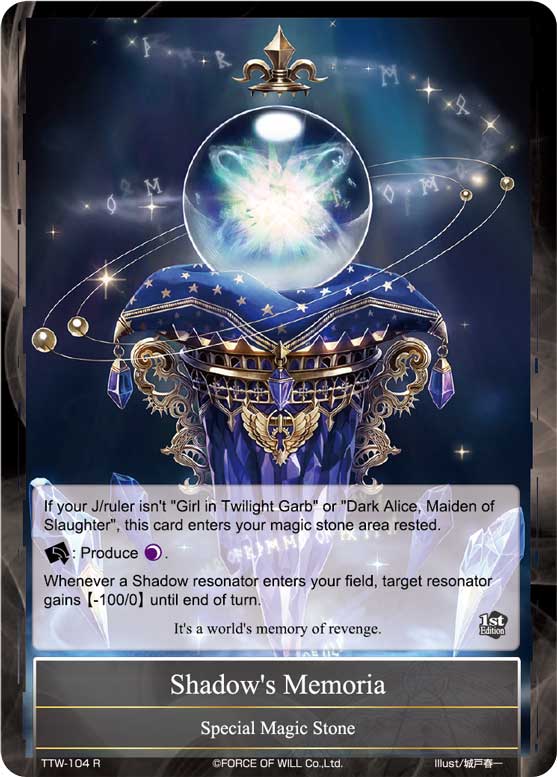 Shadow's Memoria will produce Darkness Will if exhausted, and every time a Darkness Resonator enters our field a Target Resonator will gain -100/0 till the end of the turn. A really strong effect considering we don't have to exhaust the Magic Stone to have it. All of this has a price: if our Ruler is not Dark Alice this stone will enter the battlefield exhausted, slowing that way our game!
From a first look at this expansion it seems Shadows are a really interesting archetype and really synergic with cards previously seen: will the World Behind the Mirror win the war with those troops?
We'll know it in a short time always here! See ya next time!